"The Breezeway" started out as a good time sharing music with friends in a Breezeway.
Since 2015, The Breezeway Live has grown to include our own studio space where we host live and online Shows every Tuesday Evening at 6:45pm Est.
Due to the pandemic, the Breezeway team felt that artists should still have an opportunity to perform for their fans. "The Breezeway Lockdown" series was then created to give musicians that space. The Breezeway Lockdown streams on Thursday Evenings at 7:00pm Est. featuring performances chosen from the show's followers.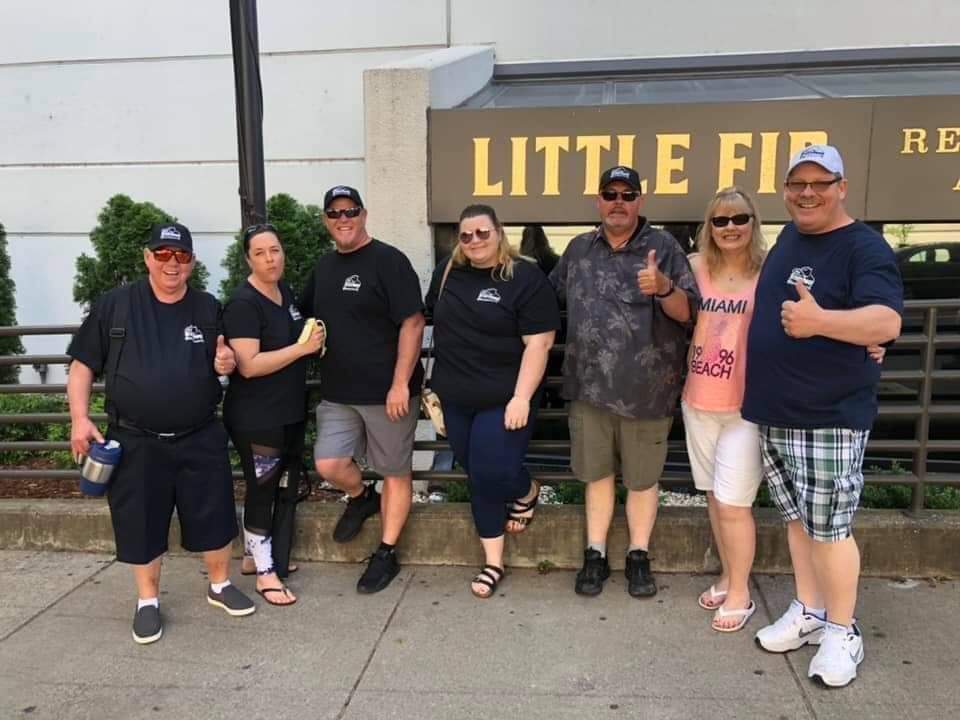 The Breezeway Live is quickly gaining traction with a monthly average of 50,000 international viewers. Thousands of people tune in to listen to local music, entertainers, bands and musical legends for an evening of fun entertainment.
"No doubt about it, you are guaranteed to see some amazing entertainment from household names, local favorites and upcoming entertainers.
How it started
It started out just having a good time with friends, now I couldn't see us not doing this every Tuesday in The Breezeway and Beyond," Says Breezeway Founder & Co Host Stephen Francis.
Awards
In 2020 The Breezeway was Awarded a Port Hope Civic Award for their work within the local community. A true testimony to their exceptional care for their community.
The Breezeway team has hosted several "on location" shows which includes fundraisers and special events;





The Napanee Country Jamboree
David Wilcox Concert in Wellington
Prince Edward County Jamboree
50's & 60's Rock N Roll Festival
Crowe Valley Jamboree
Freezerland Newfoundland Inc.
April Wine Concert
Napanee Fair Has Talent
The 184th Picton Fair
Big River Country Fest
7 Day Tour in 2018 to Corner Brook Newfoundland
9 Day Tour to Nashville Kentucky, Memphis Tennessee and Bloomington Illinois where we filmed Live from legendary locations; The Nashville Palace and John A's.
5th Annual Breezeway Award Show is May 21st, 2022.
The Breezeway Live is Excited to Announce Our Incredible 2021/22 Breezeway Independent Music Awards Show Entertainment May 21st, 2022 at The Cobourg Lions Centre. We have an Outstanding Show planned!
The Awards Show and the evening will be Capped off by Our Closing Show Featuring 3 Canadian Country Music Legends:
Canadian Country Music Hall Of Fame Member Marie Bottrell
Nova Scotia Country Music Hall Of Fame Member Harold MacIntyre
Guitar Wizard and Telecaster Master Steve Piticco and The Steve Piticco Show Band
Award Show Performances by Mitch Barker, Giselle Small, Kody Neiman, Rita Harpell, Kevin Young, Julie Simpson, Nicholas Campbell & Rob Foreman and Stephen Francis. Special Award Show Presenters and More.
 This is a Formal Cowboy/Cowgirl Event, 20+ Breezeway Independent Music Awards will be handed out.
Location: 157 Elgin St E, Cobourg ON K9A 1A1.
Featuring: Marie Bottrell & Harold MacIntyre.
Ticket: $25.00 per person.
Doors/ Red Carpet Interviews begin at 5:45pm, Award Show begins at 7pm, Canadian Legends Show begins at 9:15pm to 11pm.
More Details
Tickets are On Sale Now. $25/person (Assigned Seating Plan Event). Available by etransfer to
BreezewayLive@MillPondMusic.com
. Visit The Breezeway at 397 Ontario Street, Cobourg Ontario every Tuesday from 5pm to 9pm or by Calling Kim at 613-476-6535.
Let There be Music, Dancing and Fun again as we Celebrate Our 5th Annual Breezeway Independent Music Awards and Our 7th Anniversary Season.
Harold MacIntyre
Harold MacIntyre is a Port Hawkesbury, Nova Scotia, and raised in nearby Sugarcamp. He started singing and playing guitar as a boy at family gatherings. He moved to Toronto in 1967 to pursue his dream of playing and recording music.
Harold MacIntyre would go on to record albums on the Kodiak, Condor, Burco, Diamond and Audiograph labels, charting numerous hit singles on Canadian charts, including his signature song "Before She Made Me Crawl", one of Larry Coad's classic compositions, which ironically did not make it to Canadian hit charts.
However, MacIntyre did find chart success (1981-1984) with the singles "The Newfie Shiek", "Heaven's Almost As Big As Texas", "Too Much Woman", "Honky Tonk Fever", "That Don't Mean I Love You Less", "Till The Day I'm Gone", "Roads And Other Reasons" and the Top 10 hit "Pressures Of Progress".
In 1981 he was acclaimed Big Country's New Artist of the Year.
In 1984 he was Country Music News Male Vocalist.
From 1981-1984 Harold was nominated for 4 Juno Awards.
During his career Harold has played with many country greats including George Jones, Waylon Jennings, Conway Twitty, Carroll Baker, Johnny Burke and of course Paul Weber.
Marie Bottrell
Marie Bottrell has been writing songs and singing since her pre-teen years. After performing in her family group (Whitestone Bridge) and singing at dances and Legion Halls in her hometown of London, Ontario, Marie was signed to The Mercey Brothers' MBS Records label in 1978. She pursued a solo career, releasing two albums on MBS and an additional three albums after being signed to RCA Records.
During the early 1980s, Marie Bottrell (backed by her band Cottonwood) toured extensively across Canada, as a headline attraction and opening major concert shows for such stars as Marty Robbins, Tammy Wynette, Charlie Daniels, Tom T. Hall, Lee Greenwood, Marie Bottrell earned numerous JUNO and Big Country award nominations, winning RPM's Big Country award in 1983 for Female Vocalist of the Year. She was named the Canadian Country Music Association's Female Vocalist Of The Year in 1983 and 1984, as well as being the inaugural winner of the Female Vocalist Of Year in the 1983 Country Music News Fan Awards, an honour repeated in 1984. Marie was also named Country Female Vocalist in a 1984 Radio Programmer's Poll conducted by RPM magazine.
Marie Bottrell was inducted into the Canadian Country Music Hall of Fame in the year 2000.
Harold MacIntyre

Marie Bottrell

Steve Piticco

Gisele S. Small

Kevin Young

Mitch Barker

Rita Larabee Harpell

Julie Simpson

Kody Neiman

Nicholas Campbell Music & Rob Foreman

Stephen Francis Music.



Our Hosts will be Greg & Shane Verner of MillPond Music & Entertainment. Stay tuned for who our 2021/22 Breezeway Independent Music Award nominees will be.
Our Goal is to put as many musicians in front of as many people as we can. It is our hope that musicians will benefit in many ways". First and foremost "Our Current Viewership reaches 50,000 + per month from all corners of the world" "Thats a Huge Audience!" A Fantastic way to be heard and to entertain across the globe. Not everyday do you get to perform in front of an audience of this size!
The Breezeway Live is a great platform for artists to promote their talent. It has been proven to garner interest from multiple Jamborees, Festivals, Concerts Shows and Record Labels.
"The value of The Breezeway is not measured in dollars, but opportunity and the love of
music in an environment that allows the artists to excel"
Follow The Breezeway Live for information about our weekly shows and our upcoming
summer tour for 2022. Or join us in person every Tuesday Evening at 6:45pm est. September through the end of May.
Location: We are located at 397 Ontario Street, Cobourg Ontario.
Future Plans
We have some big plans to expand. We have teamed up with MillPond Music & Entertainment Inc. a well known and respected organization within the music industry. We couldn't be more proud to have them onboard with us as we grow into the future.
One thing is for sure, we will never change who we are, and the roots from which our show was based upon! From the Amateur player to Seasoned Talent, we take great pride in the entertainment our team and the artist provide!
The Breezeway uses a wide variety of technical tools and equipment to bring you the very best in sound and video. We have customized our production using multiple hi-res cameras, HD Video and Sound.
The Breezeway is the real deal, genuine people who wear their heart on their sleeve.
They provide an excellent opportunity for musicians, venues and fans alike to connect in a forum that makes them feel at home, while being streamed around the world" MillPond Music & Entertainment is excited to grow with The Breezeway, and we look forward to an opportunistic and fun future together".
To Book The Breezeway Live for your next Event contact us facebook or by emailing
BreezewayLive@MillPondMusic.com.
Services are customizable to suit your entertainment needs;
Unique promo videos of your event
The Breezeway Live at your location
The Breezeway Second Stage
Artist Interviews and Promotional Videos
Talent Contests and award shows
The Breezeway will bring people, viewership and awareness to your event big or small!